Interview with Nora Hajeb, Coach for personal development and well-being
May 4, 2020 by Priscillia G.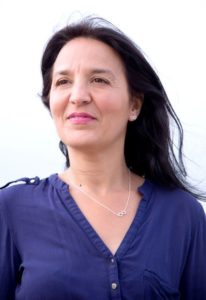 Nora Hajeb is a coach specializing in personal development and well-being. Today she reveals the « behind the scenes » of her profession, her method, her journey and her passions. This interview is intended for all those who want to free themselves from their blockages and their negative emotions and also to those who want to go further in their change. Her method ? Coach & Tap, inspired by EFT (Tapping). I will give her the floor so that everyone can find out how it works. ?
Nora Hajeb in few words
Hello Nora, how are you ? I will let you introduce yourself in a few words…
Hello, I am fine, thank you. My name is Nora and I'm a certified neuroscience coach and trainer. More precisely I offer coaching et Tapping (EFT) sessions to all those who need it.
I call it Coach & Tap.
Coaching & Tapping to free yourself from negatives blockages and emotions
Great, can you explain what Coach & Tap is all about ?
It is a cross between coaching and tapping (EFT).
Well, coaching, everyone knows what it is. We use it more and more in different fields because we know that it is a real booster to change and progress in our lives.
EFT or tapping, I am not sure everyone knows about it. It is a practice that allows you to free yourself from your blockages, fears, beliefs, internal limitations, but also to reduce stress, certain physical and mental pains, and other various disorders. The basic principle is quite simple : just tap certain points on the face and body with your fingertips to stimulate the meridian points, also called acupuncture points in traditional Chinese medicine. All this, whilst focusing on a personalized speech to precisely release the emotions and their energy charge.
I find it important to clarify that this practice does not pretend to replace medical treatment.
Following my experience as a coach and Tapping practitioner in recent years, I chose to combine the two to make it a tailor-made method, Coach & Tap. It's a way to go even further in the path of transformation and change.
The main message I want to get across is:
"Free yourself from your blockages and dare to go further with the Coach & Tap"
Just to mention, before continuing, I am pleased to add that I offer a 30 minutes long Coach & Tap session to all those who wish to discover this method. To do this, you just need to register on my website.
Her amazing journey before getting to this stage
Great, this is very interesting. We would like to know a little more about you.
Have you always done this job? Tell us a bit about your professional career.
Not at all. In reality, I started by studying foreign languages ​​in Antibes (where I was born), in Nice, and then abroad. I did a Masters in Applied Foreign Languages – English and Spanish with the Erasmus program and I had the opportunity to spend a year in Cordoba, Andalusia, and then a year in Liverpool, England.
After that, I decided to move to London to work for an airline for two years.
Then, I returned to France and I decided to settle in Paris… for 13 years! I progressed from one senior position to the next (executive assistant, HR or events manager) in large international groups:
Audit KPMG, Latham & Watkins, Virbac, Allergan, Sephora, etc.
On average, I did not stay more than two or three years in each company. I always had this need for change. And I know there are many of us in this case. I especially felt this way on my last job. I felt like I was out of place.
From that moment onwards I started to take a closer look at personal development. Since I am curious by nature and love to learn, I immersed myself in books, watched a plethora of videos and participated in many workshops on the subject.
The trigger for her career path change into the personal development arena
Okay ! and that's how you changed your work path …
Yes and no ! To be honest with you and with everyone who follows me, I experienced a life changing event. A tragic event (I lost a dear friend, that I considered a little brother, far too soon) that upset me and made me aware of a lot of things. It was in 2014.
I experienced a period of questioning life, death and the importance of making sense of your life. I was rather a people pleaser, always trying to be perfect and above all to show everyone that I was strong. The event slapped me in the face. For the first time, I allowed myself to be vulnerable.
From then on, my life changed. I was a period during which I also realized that we are surrounded by beautiful invisible and healing energies. I realized that I could contribute by helping those who wish to break free from their blockages, restore their confidence and not be afraid to live their lives to the fullest.
Working in this area became second nature to me, so I quit my job. I followed a coaching training at the Institute of Applied Neuroscience where I obtained my certification as a coach and trainer specialized in neuroscience. There I learned coaching techniques, how the brain works, the quantum approach, EFT and heart coherence techniques. I also enriched my knowledge in yoga, meditation, magnetism and everything that revolves around personal development and energy.
Since 2016, I have accompanied many people from all walks of life through coaching, EFT and even with energy massages. With experience, I was able to develop my intuition and I now feel the energies even better. I truly believe in energy healing and the power we have to heal ourselves and to overcome our limitations.
A few little anedoctes about her own change…
Ok, so it was a big turning point in your professional and personal life.
Nora, do you have any anedoctes to share with us ?
Yes. I remember meeting an exceptional company coach when I was an employee. She trained me in management with beautiful human values. In particular, she taught me how to be more self-confident. Whilst being with her and seeing her work, I silently said to myself, "This is what I want to be!". Even though I didn't believe it at all. Who would have thought that one day, I would be a coach myself? After it happened, I reached out to her to tell her that she had inspired me and to thank her.
Another anecdote that took place when I was still in the corporate world: My colleagues often came to see me in my office to tell me about their feelings and ask me for advice. Each time, they told me that they were feeling much better after our discussions. At the time when I was wondering if I should change career and orient myself towards coaching, a colleague who was not aware of this desire for change and who often came by my office, told me very enthusiastically: "why don't you become a coach, I can see you in that position, it is so good to come to see you, you are always optimistic and always have a good advice!". That was my sign …
What drives her on a daily basis
Yes, you were made for this! And you gave yourself the means to get there!
Finally, we would like to know what you like in life, your passions.
Okay, I'll be brief because the list is long. In fact, I am a true lover of life. I love to learn and open up to new experiences. Aside from my job as a coach, which is a real passion, I like to travel, discover other cultures. Most of the conferences, workshops and internships that I attend take place abroad and are led by English speaking nations. I believe that my love of travel started when I was in 5th grade and that I exchanged letters with an American pen pal: her letters made me travel in my imagination.
Otherwise, I love to dance, connect with nature, meditate, meet new people. And even if I have no children, I spend a lot of time with those around me. I often support and engage with associations that help children in their education, their health, their daily needs because unfortunately not everyone has equal access to it and this is a cause that is close to my heart.
Wonderful, thank you Nora for your sincerity and your authenticity.
How can we find you?
Thank you. You can find out about my news via my blog and my social networks. And for all those who want to test Coach & Tap, I will offer them a first 30-minute session to discover my method.