Nora Hajeb, personal development and well-being coach
« Love, Trust, Boldness »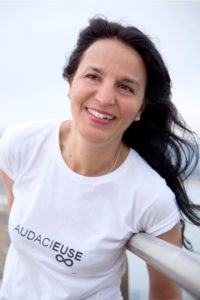 Here are 3 words that I like to repeat and which are like my personal mantra. An expression that defines me well both on what I want to instill and on what animates me every day.
I am Nora Hajeb. I live in the south of France and I made a 180 degree turn a few years ago to add more meaning and purpose in my life.
Faced with the death of a loved one, I wasledto question the meaning of life. I quickly came to the conclusion that our passage on earth must be as rich as possible.
After several years spent working for private companies, I decided to fully commit myself to a new mission, and personal development coaching came to me as the obvious path to follow.
Trained at the Institute of Applied Neuroscience, I became a certified coach and trainer in personal and professional development.
I spend more than two years integrating different techniques in order to work on myself, and at the same time to refine my approach and my method. I learned neuroscience, heart coherence techniques, EFT tapping, energy practices and the approach to quantum physics.
I still continue to expand my knowledge today, to fuel my curiosity and above all to improve my coaching methods as I explain in this interview.